20 Fun Summer Activities for Kids (divided by age)
Now that you have your summer schedule printed out, you'll need some fun summer activities for kids to fill it in with! You know I've got you covered in the kid activity department!
Fun Summer Activities for Toddlers
Keep your toddlers busy this summer with activities that perfect for them.
Pudding Painting – Pudding and painting?!?! Every toddler's dream right? Plus this time eating the paint is encouraged…. perfect for toddlers. 
Busy Bag Fun – Whether you have a busy bag making party or make a busy bag to keep on hand, these activities are sure to keep your little one entertained. 
Cornstarch Painting – Cornstarch painting is one of my very favorite ways to play outside when it's hot. It's fun and a hose cleans everything up quickly!
Shaving Cream and Shells – Have you played with shaving cream before? It wasn't until we did this activity that I tried putting the shaving cream in a bin and taking it outside. It worked so well. 
Going on a Bear Hunt – Going on a bear hunt is such a great way to fill time. It can take as long as you want (or need) it to and there is no need for set up.
Foamy Soap Paint –  Messy yes… but it's summer!
Fun Summer Activities for Preschoolers
Sun and Shade Experiment  – Summer science. 😉
DIY Sun Prints – On days that you want to have little bursts of outside time, making sun prints is great fun. Check out this SunPrint Paper Kit
! (affiliate link)
Painting a Still life… Garden – Do you or one of your neighbors have a garden? This is a great way to help your little artist record the process. 
Pretend Play Dog Park – Too hot to go outside? Bring the fun inside! 
Backyard Explorer  – One of our favorite pretend play activities… I know you will love it too!
Sensory Walk – We did our sensory walk in the winter but it's an activity that would be great any time of year.
Pretend Play Camping – We are dying to go camping, but our crazy work schedules are not making it possible this summer. I think we may have to replay our pretend play camping area!
Fun Summer Activities for School-Age Kids
Kid made Sun Dial – This is probably my favorite activity here on A Mom with a Lesson Plan… maybe. 😉
Easy Backyard Volcano – Take baking soda and vinegar play to a new level by making volcanoes! 
Glow Stick Swim Party – Grab some glow sticks and make swimming after dark even more fun. 
Tie Dye with Markers – Have your kids made anything they can wear this summer? I think M and M would love this. I just might do it when their cousins are over so they can all match. 
Mancala – Have you ever played Mancala? It's one of our family's favorite games. 
Lego Challenge Games –  This post will guide you through creating your own Lego challenges. 
Milk Jug Yo- Yo – Homemade yo yo's are a great way to keep kids moving this summer (as if kids need help moving)! 

For more fun summer activities for kids, check out our summer bucket list bucket. Add in your favorite activities for summer in the comment section!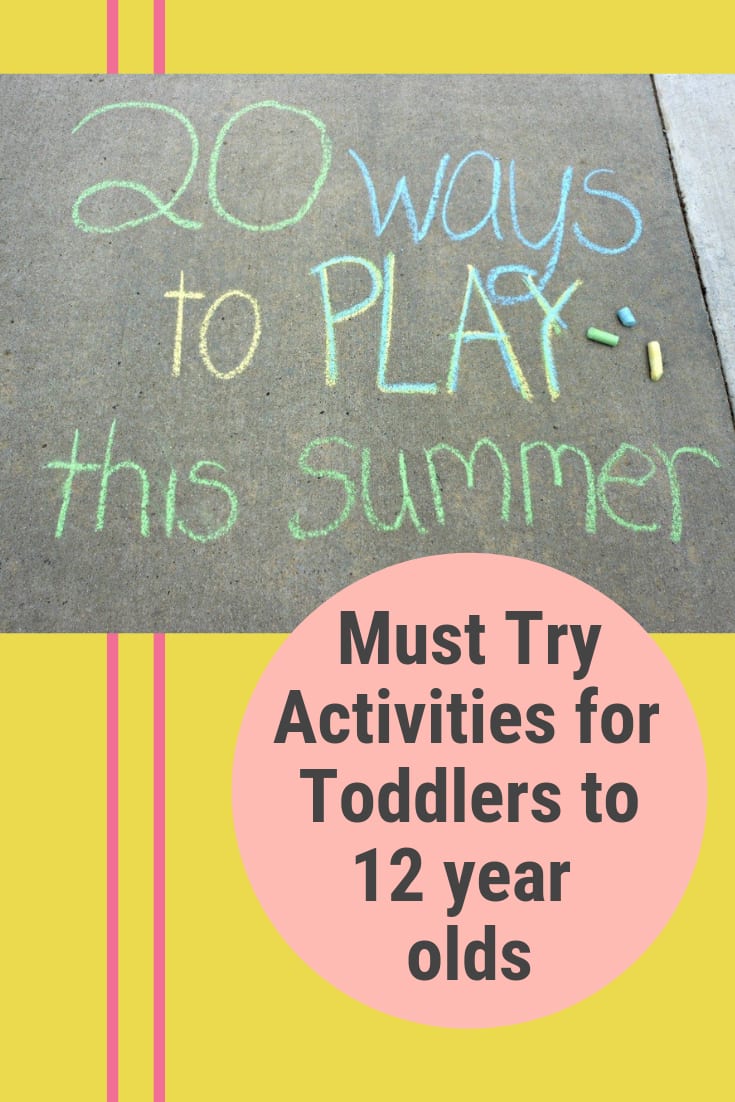 This post originally appeared on May 7, 2013.