34 Fantastic Gifts for Siblings That are Fun to Share
Christmas is right around the corner and I'm hard at work trying to figure out what the perfect sibling gifts will be this year. How is your gift list coming along?
This year I am determined to make the bulk of the gifts "sibling friendly". Why do I want gifts for siblings to share?
For one, we just don't need that much more STUFF. I also love the way M and M play together. Bringing in cooperative toys will help encourage more of that. Wins all the way around.
Fantastic Gifts for Siblings to Share
If you've seen my gift guides before you know they all lean towards practical (while still being fun, of course!). Make sure to check out Stocking Stuffer Ideas for Kids and 62 Educational Toys and Games for more gift ideas.
This post contains affiliate links. Thanks for supporting Confidence Meets Parenting.
12 Toy Gifts That Encourage Playing Together
These gifts are great for birthday gifts too, especially if you have sibling birthdays close together.
Trampoline – The trampoline was one of the best gifts we ever gave the kids. Our first was an 8 Ft. Trampoline. I was honestly surprised at how much I liked it. (For them… not me. 😉 ) Once the kids outgrew the smaller one (around eight years old), we replaced it with a 15 Ft. Trampoline
.
Sports Table – We found (and bought as a sibling Christmas gift) a combo game table, but any game table would make a great joint gift for kids.
LEGO – Ummm…. LEGO is awesome. That's it. The LEGO Creative Brick Box
will let two (or more) kids build and create side by side all year.
Magnets – We were given a set of Magnatiles a few years ago. They are still a favorite! One of the great things about this particular magnet set is that older kids and younger kids can have fun with it.
Art Supplies – Creating art side by side (with an audiobook playing) is something M and M do a lot. Our favorite shared supplies are glue gun, Perler beads, and pastels.
Walkie-Talkie – How many ways can you think of using Walkie Talkies? I bet your kids could come up with even more!
Fort Building Kit – This gift for siblings to share has been a HUGE hit at our house (for me as much as for them). The Glow in the Dark Fort Building Kit is perfect for them to create a fort together… and they don't need to use my dining room table and chairs.
Kinetic Sand – Have you ever used Kinetic Sand
? It's pretty amazing. So far, we have only gotten the chance to play with it at other people's houses. M and M will be getting some to share this year… shhh! Don't tell. 😉
Marble Run – Building and problem-solving together is a great way to head off sibling rivalry. This marble run has great Amazon reviews.
Paper Airplanes – This paper airplane book was a hit at our house. It provides the paper and directions for several different types of paper airplanes.
Body Bumpers – This gift would be so much fun for the whole family on Christmas morning and a fun way to play together all year.
Science Magic Kit – What's more fun than using a kit to mix magic and science? Doing it with your brother or sister!
6 Experience Gifts for Siblings to Share
Cooking Class – Why not give the gift of cooking? They'll not only get to spend quality time together, but they'll also build their confidence and learn life skills they need. We love this one: Kids Cook Real Food.
Zoo Pass – A season pass to your local zoo or aquarium is perfect. It means lots of together trips throughout the year and also allows for short day trips, evening trips, and birthday visits.
Tickets for Fun Around Town – Bowling, skating rink, or a trampoline park.
Find and Seek Scavenger Hunt – This scavenger hunt is pretty and perfect for pulling out while exploring different areas in your city.
Escape Room – Escape rooms are a lot of fun. You can look around in your area for age-appropriate escape rooms for the siblings in your life.
Arcade – Our area has a penny arcade with old games and low prices. We love to give them a certain amount to spend and make an afternoon of it.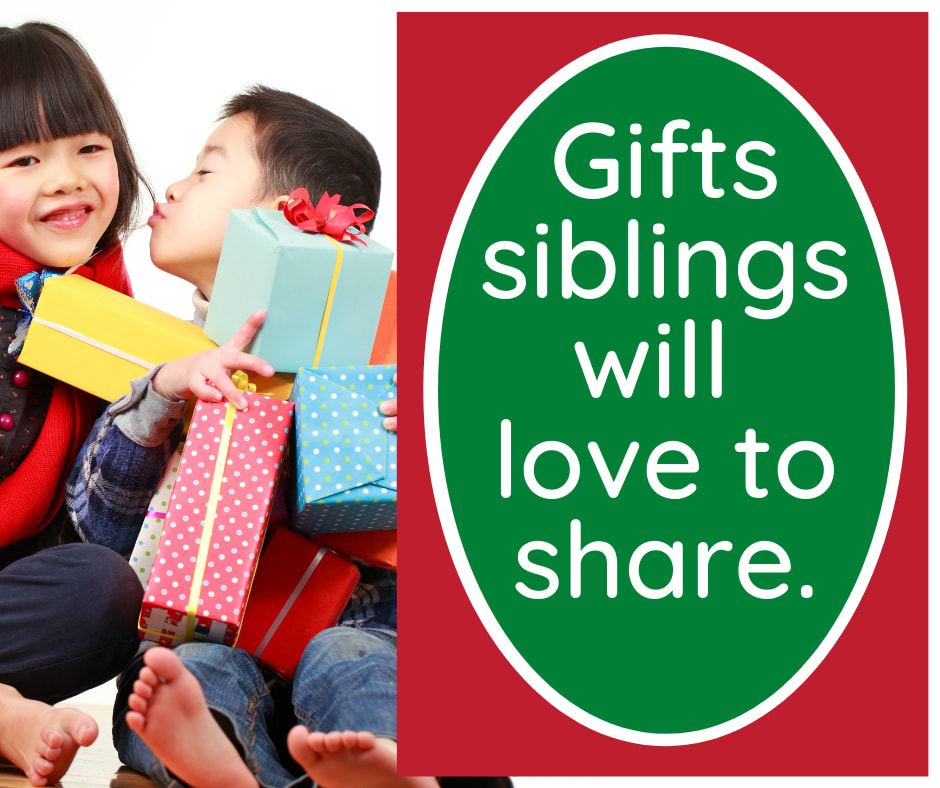 6 Games Perfect for Siblings to Play
Here is a much larger list of family games we love. Games make a great Christmas present.
Classic Game – Classic games are a great gift that can connect your childhood memories to your kids' current fun. Guess Who?, Battleship, or Sorry.
Thinking Game – These are some of our favorite strategy games. Labyrinth, Ticket to Ride, or Blokus.
Card Game – Card games are especially great for kids because they can fit easily into a backpack to play at a sleepover at grandma's! These are card games our kids love to play together. Phase 10, Spoons, or Monopoly Deal.
Movement Game – Anytime you add movement to something siblings do together, you uplevel the fun. We love Throw, Throw Burrito, or Ring Toss.
Creative Game – Pictionary or Charades for Kids.
Cooperative Game – Cooperative games are great for getting siblings playing for a common goal. Forbidden Islands or Gnomes at Night.
6 Gifts Teen Siblings Can Share
This list of gifts for siblings to share is a little more grown-up for those older siblings.
Board Game – Cranium.
Silly Game – Catch Phrase, or Taco, Cat, Goat, Cheese, Pizza.
Activity Book – The Ultimate Activity Book for Teens: Crosswords, Cryptograms, Trivia, and More!
Game Table – Fooseball Table, or Ping Pong Table.
Silly Puzzle – Pooping dog puzzle or camping world puzzle.
Gift Card they Can use Together – Gas card, movie theater, or favorite restaurant.
Audio Books Kids Can Enjoy Together
For years, you could almost always hear an audiobook playing in the background as the kids would build or create. (We get audiobooks from the library, but there are a lot of ways to get your hands on Audiobooks.
(And A Way to Listen)
CD Player – Can you believe a CD player and bluetooth Radio was one of our best purchases over this past year? I almost didn't buy it because it's so easy to put music and audiobooks on our phones… but I think the CD player is probably the most used item in our house. It's wonderful because the kids can move it around, use it on their own or together, and be completely in control of it.
Alexa Echo Dot – Just make sure that the way you buy audiobooks is compatible.
Libby – This is the Library app in our area. Check with your library for a way to borrow audiobooks.
What is a good gift for siblings to share?
Games are a great gift for siblings to share. They can play together or take turns playing it with their friends.
That wraps up this list of gifts perfect for siblings to share. Do you have favorite gifts for siblings to share?