Christmas Charades Ideas for Kids (with Printable)
Print & Play Fun Christmas Charades
December is supposed to be about spending time with family, having fun, and making memories.
Our actions often tell a different story.
It's easy to get so wrapped up in the holiday stress that we forget to just have fun.
We worry about getting to every single tradition. You know, the ones passed down from your family and the ones you found on Pinterest last month!
The Christmas to-do list gets a bit crazier every day. Suddenly creating the perfect Christmas mantel takes time away from the entire reason you put so much effort into this holiday!
If spending time with your family has taken a back seat to the Christmas crazy it's time to hit pause…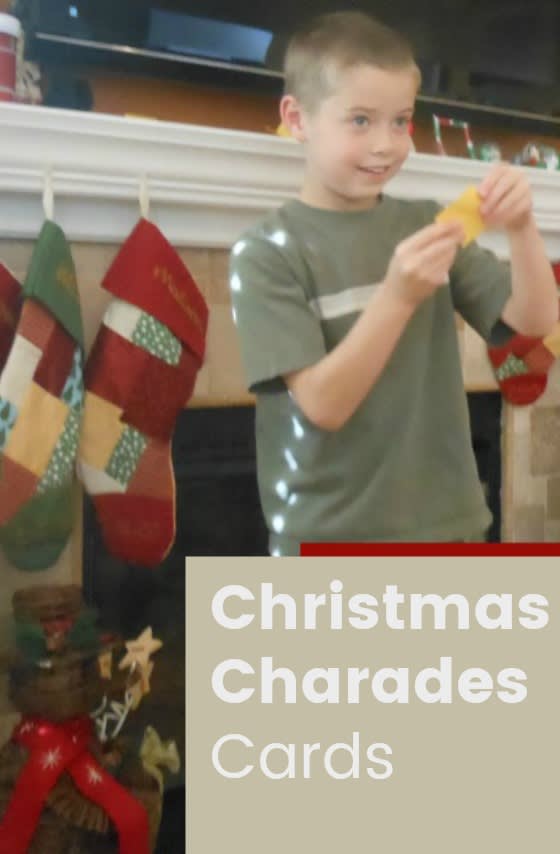 It doesn't have to be fancy, planned ahead of time, or perfect to be just what you need…
fun, memory-making family time.
For more fun last-minute activities try the What am I game or free printable Christmas lights scavenger hunt.
Christmas Charades Printable
These printable Christmas Charades for kids come with a surprise for Mom! A cutting guide with blank cards will print first, hiding the charade cards… you can prepare the cards and still play! Yay! (Just make sure to avoid the section below titled Christmas Charades List.)
Click here to get your printable Christmas Charades.
How to play Christmas Charades for Kids
The first thing you need to decide is if you'll have teams or if everyone will just get a turn acting out for the group. If you choose teams, pick the team members.
Print out the free printable Christmas Charade Cards.
Fold the cards and put them into a pretty bowl or Christmas tin.
Set up some house rules. Will talking be allowed? Can you use props? What happens if no one can guess? Will there be a time limit?
If you have kids who aren't reading yet, pick someone who can read the card to them (and not guess) OR draw pictures on the cards before you start.
Once you run out of cards have everyone take turns making up their own Christmas Charade.
Extra note: These cards have lived at Grandma's house for years. There's a special Santa box that keeps them safe. Every year, someone goes to the box and starts a Christmas charades game. We all know what's in there, we've played so many times. And still, it's fun.
Different Fun Christmas Games with the Same Charades Cards
Drawing game. You can also use these cards to make a drawing game. Play the same way as a game of charades but instead of acting out the cards, draw a picture. Who can guess first?
Game of Clues. Draw a card and give clues without saying the words on the card. Get creative and see how fast you get everyone to guess.
Christmas Charades List
The charades word list below contains the same words that are on the charades cards, so stop here if you don't want to spoil the game for yourself.
Snow falling
Singing Christmas songs
Santa's sleigh
Opening a present
Wrapping a present
Elf (or Elf on the Shelf)
Mrs. Claus
Santa Claus
Making cookies
Santa eating cookies
Looking at Christmas lights
Santa coming down the chimney
Decorating the Christmas tree
Reading Christmas Stories
Reindeer
Kissing under mistletoe
Building a snowman
Drinking hot cocoa
Candy cane
Rudolph
Where to next for more holiday fun?
Did any of these Christmas Charade ideas stump your family? What other Christmas charades did you come up with?