How to find a trustworthy & reliable babysitter
At a glance: We all need a good babysitter from time to time. These 8 creative ideas will walk you through how to find a trustworthy babysitter. From a breakdown of online resources to some extra special places to look in your own neighborhood. These ideas for finding a babysitter you can rely on will get you out of the house before you know it.
A few years ago, my husband and I packed up and moved from Oklahoma to Boston, MA. We had never even been to New England and suddenly we were calling this foreign land "home".
With two young kids, it felt necessary to find a babysitter because we had no family nearby.
After getting connected with our community, we were able to line up a few different people that not only we trusted, but that our kids enjoyed spending time with!
We all need a good babysitter from time to time. Even if you have family nearby to lean on, they are not always available when you need them, or they may not be able to help you out consistently.
So where do you look to recruit highly qualified childcare? As parents, we never want to hire an unverified stranger!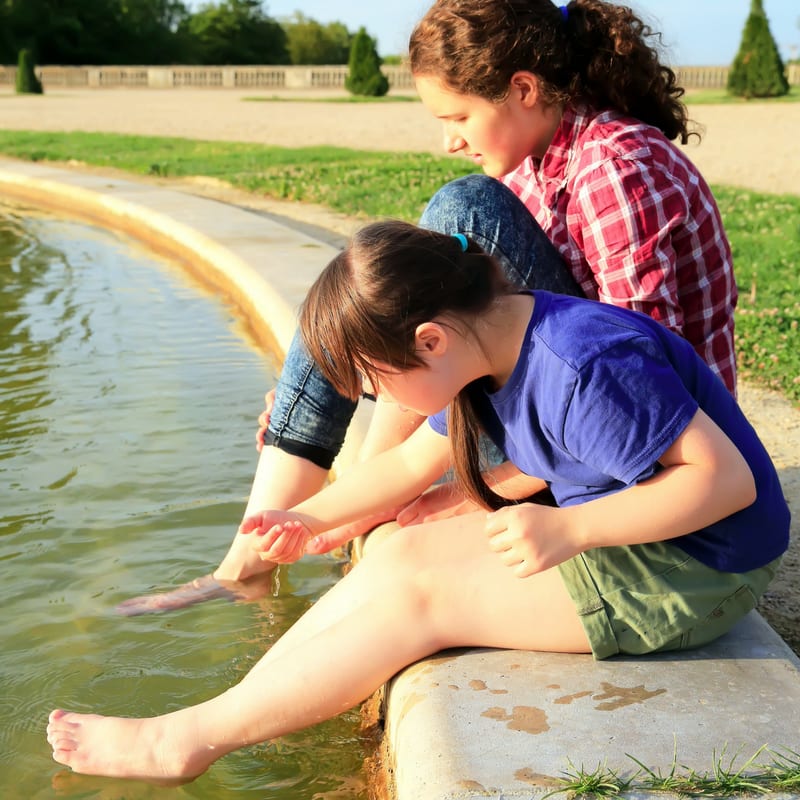 Nothing is more precious than your children, so you want to make the best choice when it comes to a babysitter or a nanny.
How to find a trustworthy & reliable babysitter
There are many online and local sources to assist you in your search, many places have already done the hard work of checking references and backgrounds for you.
From largely active websites to smaller community groups, these top resources for recruiting qualified babysitters will give you a long list of professionals or top-notch teens to hire.
Related: Comprehensive guide for hiring a babysitter.
Online Options for Trustworthy Babysitters
Sittercity.com – Sittercity.com has been matching babysitters and nannies to families who need them since 2001. The site boasts that it provides background checks and all childcare workers have references and reviews.
Parents can view the profiles of babysitters free for one month. It's the only site that offers that, so it's a good idea to start with this one, especially if you're not sure if you will need long-term access to such a resource.
Care.com – To use Care.com to find a sitter or nanny, you must first purchase a membership plan. The prices are comparable to most other services, but you must pay to use the premium features. The site isn't very useful unless you do.
You can browse babysitters and nannies but that's about it unless you pay up. But once you do, you won't be disappointed. From there, you can scout out qualified applicants for your needs by placing an ad.
Your ideal candidate is just an email message away, and you can be reassured that they are highly vetted and qualified. Read your applicants' reviews and message them to learn all about them before hiring.
Babysitters4hire.com – If references and background checks are important to you, then Babysitters4hire has you covered. They also allow you to browse listings of available babysitters in your area without a paid membership.
However, in order to use their full search and contact services, you'll need to purchase a membership. Rates are reasonable, and with a paid membership you can create a profile that will send babysitters that match your needs and preferences your way.
You'll be able to view their photos, credentials, and bios with a click of the mouse. Once you interview and schedule your top pick, you'll be on your way to your next date night!
Scour Your Local Community for Childcare
Churches: If you're a member of a church, you can ask the youth director for recommendations for any teens in the youth ministry who might enjoy babysitting. Even if you're not, you can typically contact a local church to find some recommendation.
It's easy to get a reference from other families within the church for which they may have babysat in the past. The added confidence of having a pool of young women and men who are quite possibly involved in missions work and are likely to give of themselves for the sake of others is a huge plus. Sometimes you'll find someone who doesn't even care about getting paid.
Homeschool Groups: If you didn't know, there are thousands of homeschool co-op groups within the United States, and most likely, there are several in your immediate area.
These groups are the perfect place to seek out teens who love being around younger children and often have very lucrative babysitting businesses with lots of positive references. That's because they often help their mothers around the house with their younger siblings, and they've grown up doing so.
The ones who find that they enjoy babysitting go the extra mile to take CPR and First Aid classes at the local hospital and volunteer their time at places like the church nursery, the YMCA, 4H club, or provide other community services.
They tend to have a natural insight into the business of caretaking, and they enjoy using their gifts to earn an income. These teens are in high demand, and often aren't available on short notice, because they keep their hours booked, but if you're lucky enough to snag one, keep her/him on speed dial.
The YMCA: Many local YMCAs have babysitting once a month. On average it's $25 for members and $35 for non-members with an extra cost for extra children. But to have the opportunity to get out and know your kids are both safe with qualified childcare workers and enjoying time with other kids, $35 + $10 for each extra kiddo is a steal!
Ask the counselor or principal at a local high school: I actually got a babysitting job this way in high school. A local police officer had a toddler and they were desperate to get out. He asked the principal if she could recommend anyone that was responsible, trustworthy, and presumably good with kids.
After an interview and a quick playdate while the parents were still home, I got the job.
Related: How to make sure your babysitter can handle emergency situations.
Ask Friends and Family for Sitter Recommendations – The best resource for gaining referrals of qualified babysitters in your area is other moms and dads you know. Or by sifting through threads in a local facebook page.
Ask your friends at local events, playdates, or community hangouts if they have a favorite babysitter they can recommend. Send a text, make a call or two, or ask friends and family on Facebook if they know of anyone who carries good references. If your neighborhood distributes a newsletter or has community events, ask there too.
Finding highly qualified babysitters is a matter of research through various resources. You just need to know where to look!
Kara Carrero is an author and owner of Extremely Good Parenting. She and her husband are raising 3 children in Boston, MA. Her degree in Secondary Education with an emphasis in research and Adolescent Childhood Development. Today she helps parents find improvement and empowerment every day raising their kids!