Thanksgiving around the web
Have you seen some of the great Thanksgiving projects spreading across the web?  Here are some that I think you just might want to try!
As usual I've picked activities that are easy to prepare, fun to do and have a little side of playful learning… enjoy!
Toddler Approved used leftover Halloween candy to make this little turkey.  I'm thinking it would look great on Dad's desk at work.  (Of course we have no baby food jars… do you think he'd be okay with something a little BIGGER?)
I love the way The Artful Child used what she had to create this great Gratitude Board.  Of course I love anything that gets our kids thinking about the wonderful things we have to be grateful for!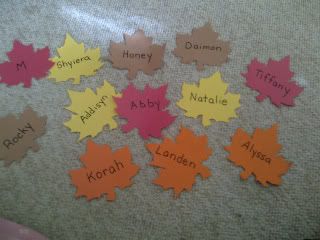 My Buddies and I made this Word Walk with fall leaves.  Wouldn't that be a great way to practice sight words?
This Indian Corn Mosaic is gorgeous.  I love the colors and texture of it!  No Time for Flash Cards used sticky back foam but I think the foam I have with glue would work well too!  (I'll let you know.)
 I've said it before and I will say it again… and again… and again.  M, M and I did this Gratitude Activity Jar from Frugal Family Fun Blog last year.  It was an AWESOME activity.  Try it… you will not be disappointed.
My niece S loves to write (she's a brand new reader).  I bet she would cover this Thanksgiving tree from JDaniel4'sMom with all kinds of grateful love.
We had a blast making these Mixed Media Turkeys!
Do have Thanksgiving posts to share?  Favorites of your own or ones you've come across?  Leave them in the comments.  I would love to share the love!!!
This post is a part of the Thanksgiving lesson plan.